Corporate training and other services
Corporate training
Inspirational training for your staff team
Our corporate training courses are highly regarded and popular and a great way to bring your staff team together for an enjoyable, exciting and inspiring day or residential course. We've delivered to all levels within organisations and all have commented on their improved team spirit and ability to work together following the course. Don't worry about fitness or experience levels – we'll work closely with you to design a course that is perfect for your group.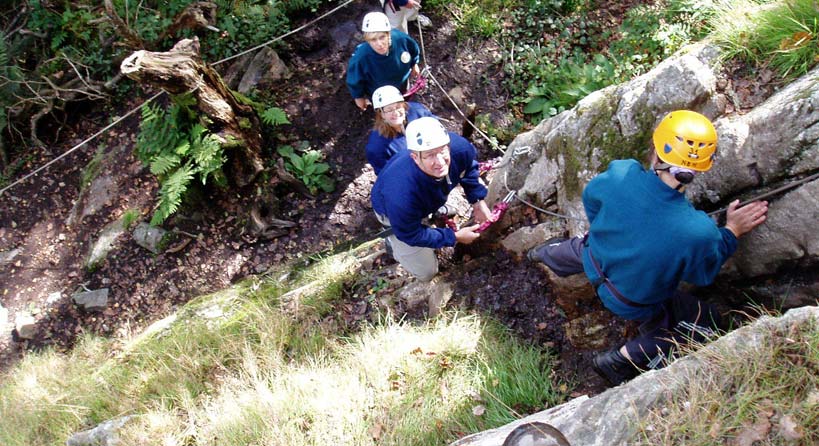 Developing outdoor learning in your school grounds and local area
Bring a breath of fresh air to your school
We provide expert advice, training and resources to help you and your staff team to deliver brilliant outdoor learning in your school grounds and local area. We provide:
Outdoor Learning Cards training: an excellent training course and set of resources to support you to make the most of your grounds for orienteering, team building, bouldering and journeying. Perfect for Key Stage 2 and 3 teachers and deliverable as a whole day, two half day or three twilight sessions.
Orienteering mapping, control point installation and course design to make it easy for you to provide great orienteering sessions in school: differentiated for foundation phase, Key Stage 2 and Key Stage 3
Environmental Learning Cards training: a great half day course and set of resource cards to help you to deliver exciting environmental education at school.
Into the wild: adventure activity skills training and leadership courses for teachers
Mountain Training's Hill and Mountain Skills courses, Lowland Leader Award training and assessment, first aid training for outdoor leaders, personal skill development in any of our adventure activities.
Get in touch today to discuss your needs or arrange a course.